1. CCMP News in Brief
New Sub-Committee Member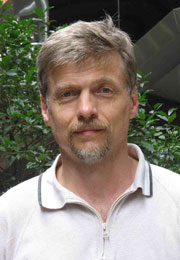 At the October 5, 2009 CCMP steering committee meeting, Alexey Voinov was nominated and unanimously approved as a sub-committee member. Although his membership role is new, Alexey is obviously no stranger to CCMP, having recently wrapped up several years as CCMP's Program Manager. While Alexey will fulfill his duties remotely from his current position at the ITC in the Netherlands, the SC felt that Alexey is now in an ideal position to keep the SC apprised of developments in environmental modeling in the Baltic region and EU in general. Welcome back Alexey!
ChesMS10 Special Sessions
The ChesMS10 special session descriptions are now viewable at the ChesMS10 website. The sessions cover a wide range of topics and should draw a lot of interest from within and out side of the Chesapeake modeling and management communities.
Some of the sessions are:
Simulating the shallows: development and application of models for the Chesapeake's fringing sub-littoral zone.
Coping with uncertainty in modeling environmental resources: practices, pitfalls & recommendations from modelers, restoration biologists & managers
Chesapeake Bay Ecological Forecasting: Moving ecosystem modeling from research to operation
Modeling Hypoxia in Relation to Nutrients, Climate and Ecological Controls
Cyberinfrastructure tools for Chesapeake Bay researchers and modelers
A complete list of session titles can be found here.
Chesapeake Bay FRG Meeting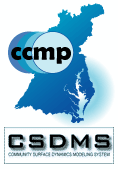 The Chesapeake Focus Research Group (FRG) of the Community Surface Dynamics Modeling System (CSDMS) held it's first meeting under the leadership of it's new Chair Carl Freidrichs on November 10, 2009 at the Virginia Institute of Marine Science.
A list of short term, intermediate and long term goals for the FRG were identified at the the meeting. These are:
Short Term
Recognize the Chesapeake FRG to be the academic research arm of the Chesapeake Community Modeling Program.
Populate the Chesapeake FRG pages with existing open-source Chesapeake Bay region models.
List publications which have used these models.
Post links to freely available model forcing data, such as bathymetry, wind, runoff, etc.
Pursue avenues for group proposals including funding for full-time orf nearly full-time Chesapeake FRG oriented personnel, such as a dedicated post-doc.
Give priority to Chesapeake FRG related projects which focus on models with management implications, such as land use, water quality, ecosystem function, storm surge, etc.
Intermediate
Implement a version of ROMs for the Chesapeake Bay at CSDMS in *IRF format. Promising candidates include CHIMP and/or ChesROMS.
Implement the EPA/NOAA Chesapeake Bay models at CSDMS in IRF format.
Post key common forcing data sets at CSDMS.
Long Term
Implement additional distinct, swappable land use models (i.e., modules), hydrodynamic models, water quality models, ecosystem models, etc., in IRF format at CSDMS.
Utilize CSDMS to make side-by-side comparisons of model performance and differences in output by systematically swapping model components or modules.
Utilize CSDMS to perform ensemble modeling (i.e., using multiple distinct models) of future Chesapeake environmental conditions under various management scenarios.
*IRF refers to Initialize, Run, and Finalize which are the minimum set of functions in a model's application programming interface (API) needed by CSDMS to link it to other models in the modeling suite. For more information on IRF, go here.
CIPS
On December 11, 2009, members of the Chesapeake Inundation Prediction System (CIPS) team will host an online session discussing CIPS. The webinar will provide an overview of CIPS and it's performance in modeling the inundation of the Hampton Roads area during the Nor'easter that took place November 11-13, 2009. Discussion will also cover a collaborative effort between USGS and CIPS team members during the storm. Under the guidance of CIPS researchers, USGS placed inundation monitoring equipment at strategic locations in the Hampton Roads area.
Registration is open to anyone but space is limited. To register, go here.
Bay Physics Meeting
CRC's Kevin Sellner will host a planning meeting of Chesapeake modelers of bay physics on January 7, 2010 at the Chesapeake Bay program offices to discuss options for a special session on model comparisons of estuarine mixing/stratification that will be part of the CheMS10 Symposium. The goal is to determine which models will be run for exploring best estimates of vertical distributions of salinity, for possible refinement of bay circulation models being considered as a part of NOAA's possible Ecological Forecasting System proposed for the next 5 years.
---
2. News From Other Communities
CERF Scientific Awards

Several members of the Chesapeake research community were honored at the 20th bi-annual Coastal and Estuarine Research Federation (CERF) conference this November in Portland, OR.
CERF scientific awards went to-
Odum Award for Lifetime Achievement
Walter Boynton, University of Maryland, Chesapeake Biological Laboratory
Michael Kemp, University of Maryland, Horn Point Laboratory
Cronin Award for Early Career Achievement
Malcolm Scully, Old Dominion University, Center for Coastal Physical Oceanography
Distinguished Service Award
Carolyn Keefe, University of Maryland, Chesapeake Biological Laboratory
EPA Modeling Meeting

EPA is hosting a meeting on Integrated Modeling and Analysis to Support the Management and Restoration of Large Aquatic Ecosystems. The meeting will take place at the Marriott at Metro Center in Washington, DC January 20-21, 2010. The theme for the meeting is Putting the Best Available Science and Information Technology to Use: Integrated Modeling and Analysis to Support the Management and Restoration of Large Aquatic Ecosystems. For more information, go here.
International Meeting: Environmental Modeling
The next International Congress on Environmental Modeling and Software will take place July 5-8, 2010 in Ottawa, Ontario, Canada. Information can be found here.

Some potential themes of the congress include:
agricultural sustainability and food safety
adapting to a shifting climate
water resources management
ecosystem service issues
sensor networks
integrated modelling approaches
modelling and software frameworks
decision support systems issues
capacity-building in less-developed countries and regions
International Meeting: Ocean Modeling

The 2nd International Workshop on Modeling the Ocean, IWMO-2010 will be held at ODU, May 24-26, 2010 (the 1st meeting, IWMO-2009 was held in Taiwan with ~150 participants from 30 countries).
Pre-registration deadline is December 15. For more information go here.
---
3. Open Source on the March
Google Chrome OS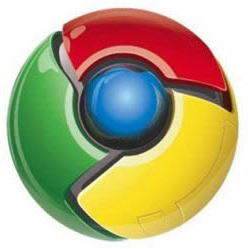 Google released a beta version of its new open source operating system November 19th. Google Chrome OS uses a web browser as its user interface and is very bare bones in terms of functionality. Aside from the browser the beta version has some OS controls for printing, account management, and customization. This fairly Spartan design may strike some as surprising; however, it is consistent with Google's style when you consider their search engine, which consists of a logo and an input box.
Google's target audience for the Chrome OS appears to be people who primarily use their computers online. Using applications such as Gmail, Google Calendar, and Google Docs, these users do not really need to have applications installed on their hard drives. Using Google Chrome OS, these users can operate completely in the "cloud". Given the availability of online data storage, users may not even need hard drives! The open nature of Chrome will lend itself to App development similar to what occurred with Apple's iPhone and iPod.
Google Chrome OS will be ready for release sometime next year and will be platform independent.
Firefox Turns 5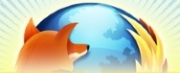 A shining example of a successful open source project, Mozilla's Firefox web-browser turned five years old on November 9th. The open source project is run by Mozilla and was initiated by Netscape. Firefox was originally dubbed Pheonix, supposedly to signify its rising from the ashes of Netscape. The Firefox browser has proved to be very popular, experiencing its 1 billionth download this year. Firefox currently owns 23% of the market share for browsers and there are over 7000 community-developed add-ons available for download. Mozilla is currently working on an open source browser for mobile devices called Fennec.
---
4. Featured Modeler: Carl Friedrichs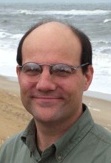 Coastal Hydrodynamics and Sediment Dynamics Program
Virginia Institute of Marine Science
P.O. Box 1346
Gloucester Point, VA 23062

- B.A., Amherst College
- Ph.D., Massachusetts Institute of Technology/Woods Hole Oceanographic Institution
Carl received his B.A from Amherst College and his Ph.D. from Massachusetts Institute of Technology/Woods Hole Oceanographic Institution. Carl is presently a Professor of Marine Science at the Virginia Institute for Marine Science. His long-term research goals are to better understand the fundamental aspects of coastal and estuarine physics which control sediment and other material fluxes at time-and length-scales important to geology, biogeochemistry, and ecology. His technical approach involves field work, analytical theory, numerical modeling, and the intersection of all three in the utilization of coastal observation and prediction systems.
Carl is the Chair of the Chesapeake Research Focus Group (FRG) of the Community Surface Dynamics Modeling System (CSDMS). Carl has jumped right into this role, hosting a meeting of the FRG at VIMS in November. Carl recently traveled to the headquarters of CSDMS at the University of Colorado where he became familiar with all of the details involved in uploading models to CSDMS and getting them to interact with other models in the system.
---
5. Featured Model: CSDMS - Community Surface Dynamics Modeling System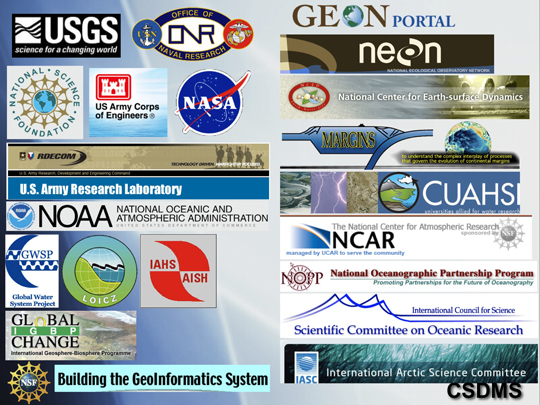 Our featured model for this issue is not actually a model but a collection of them called the Community Surface Dynamics Modeling System (CSDMS). CSDMS is an NSF-funded program dedicated as a repository of open source numerical models and tools that simulate processes occurring on the Earth's surface. The main goals of CSDMS are to provide a community-built suite of software models and modules and working to encourage more open collaboration within the surface dynamics modeling community. It is hoped that this will result in less duplication of effort and an integrated suite of models that is easily built upon to ultimately propel the modeling community to better models in less time.
The CSDMS has five working groups, each focusing on either a different model domain or a function of CSDMS. The Terrestrial working group focuses on models dealing with landscape processes. The coastal working group is concerned with models dealing with processes at the land sea interface and the Marine working group focuses on models dealing with shelf and deep ocean processes. The Education and Knowledge Transfer working group is charged with bringing models and their output to researchers, planners, and educators. Lastly, the Cyberinformatics and Numerics working group ensures that the cyberinfrastructure that ties the suite of CSDMS models and tools together operates as it should.
In addition to the working groups, CSDMS has three Focus Research Groups (FRG): Hydrology, Carbonates, and Chesapeake. The FRGs serve a unique subset of the surface dynamics modeling community. The Chesapeake FRG is co-sponsored with CCMP and chaired by Carl Friedrichs of VIMS. The Chesapeake FRG will act as the academic research arm of the CCMP and will focus on populating the CSDMS database with open source models from the Chesapeake region. This effort represents an excellent opportunity for the CCMP to take advantage of CSDMS's existing cyberinfrastructure to advance its mission of building an open source system of watershed and estuary models specific to the Chesapeake Region.