1. CCMP News in Brief
CheMS12 is NASA's Earth Observer

An article detailing the Chesapeake Modeling Symposium was in the September/October edition of the of the NASA Earth Observer Newsletter. The article gives an overview of the plenary talks, the panel discussion, and a summary of the special sessions. A longer version of the article can be downloaded from the CCMP website - http://ches.communitymodeling.org/downloads/ChesapeakeModelingSymposium2012.pdf
CCMP Program Coordinator on Sabbatical in Tasmania
CCMP Program Coordinator, Raleigh Hood is on sabbatical in Tasmania. He just sent us this dispatch to let us know what he's been up to -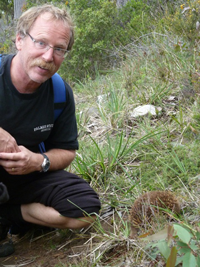 CCMP Program Coordinator Raleigh Hood posing with an Echidna in Tasmania.
"The primary goal of my sabbatical visit to the CSIRO (Commonwealth Scientific and Industrial Research Organisation), CMAR (CSIRO Marine and Atmospheric Research) laboratory in Hobart is to work with their Coastal Biogeochemical Modeling Group, exchanging information about biogeochemical modeling approaches and applications. The group here (led by Mike Herzfeld and including Karen Wild-Allen, Mark Baird, Emlyn Jones, Mathieu Mongin and others) is applying a variety of advanced regional/coastal models with an emphasis on assimilating both physical and biological data from Australia's Integrated Marine Observing System (IMOS) and applying these models to help inform coastal marine resource management efforts. IMOS is, arguably, the most advance coastal observing system in the world deploying a variety of cutting edge technologies, including an array of moorings and gliders with biogeochemical sensors, around the coastal perimeter of Australia. The Coastal Biogeochemical Modeling Group is also working on integrating and forcing their models using Australia's global forecasting model OFAM (Ocean Forecasting Australian Model otherwise known as BlueLink), which is a global, eddy-resolving implementation of MOM (the Modular Ocean Model). The development of OFAM is being led by Andreas Schiller with biogeochemical model development work led by Richard Matear. By coincidence, CMAR is also the home of Beth Fulton, who is the leader of the Atlantis modeling effort discussed below."
---
2. Open Source on the March
Free the Code

Open Source for America (OSFA), a non-profit organization focused on promoting the use of free and open source software solutions by the U.S. Federal Government, has initiated a new initiative called "Free the Code". The goal of Free the Code is that all software developed using public funds be made available as free and open source. To these ends, in July 2012 Free the Code started on the White House We the People website. The White House pledges to respond to any petition on the We the People website that receives 25,000 signatures within 30 days. Unfortunately, the petition expired before that number of signatures could be reached. However, the fight lives on and you can go to http://freethecode.org/ to learn more.
Open source and the Mars Curiosity mission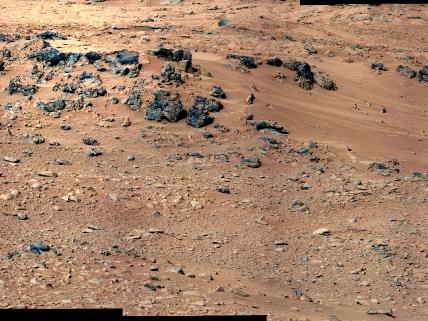 With the almost constant flow of hi resolution images and data being streamed from the Mars Curiosity rover back to earth, how is NASA efficiently and effectively distributing this information to hundreds of thousands of web users around the globe? Via open source software, of course. For their HTTP server, NASA is using the open source Nginx. They used Railo, an open source server side scripting language to develop the content management system. And they used GlusterFS, the open source, distributed file system which is the same one used by the internet radio service Pandora. This is one more example of how open source solutions are getting the job done in hi demand, hi profile situations.
We the People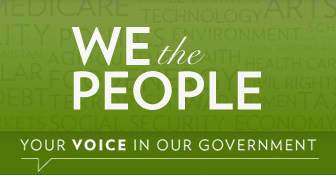 On August 23, 2012, the Whitehouse announced that it was publishing the source code for We the People, their online petition system. We the People allows the general public to get issues they are concerned about considered by the White House if they cansecure 25,000 signatures within 30 days. By releasing the source code, the White House is hoping that other groups will benefit from the software by modifying it and using it for their own needs. The code was developed in Drupal and can be downloaded here - https://github.com/WhiteHouse/petition
---
3. Featured Modeler: Howard Townsend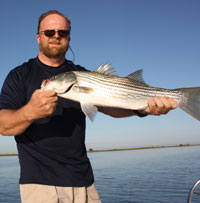 NOAA - Chesapeake Bay Office
Cooperative Oxford Laboratory
Oxford, Maryland 21654

Education:
- 1994 B.S, Wake Forest University, Winston-Salem NC, Biology.
- 2004 Ph.D., Wake Forest University, Winston-Salem NC, Biology.

Howard is an ecologist and ecosystem modeler at the NOAA Chesapeake Bay Office. His research interests include a wide variety of topics, which revolve around fisheries research, living resource modeling and ecosystem-based management. As the leader of NCBO's modeling efforts, Howard has spent many years on the development of quantitative multispecies models of the Chesapeake Bay ecosystem that are designed to inform management decisions. These models include the Chesapeake Bay Fisheries Ecosystem Model (CBFEM) and the Chesapeake Atlantis Model (CAM). CBFEM is based on Ecopath with Ecosim, which is an ecological/ecosystem modeling software suite that includes two main components: Ecopath – which provides a static, mass-balanced snapshot of the ecosystem and Ecosim - a time dynamic module for simulating food web dynamics. As described below, Atlantis is a deterministic biogeochemical whole ecosystem model that extends through the food-web to humans. These efforts are all aimed at providing a more holistic approach to the management of living resources in Chesapeake Bay.
In addition to his work at NCBO and serving on the CCMP Steering Committee and the CBP modeling workgroup, Howard has dedicated a considerable amount of his time to local, national, and international service. Among other things, he has served on the San Francisco Estuary Pelagic System Dynamics Workgroup, the NOAA – Marine Fisheries Service, National Ecosystem Modeling Steering Committee, and the United Nations FAO panel of experts on Ecosystem Approaches to Fisheries. Howard is currently a member of the Maryland Sea Grant Chesapeake Bay Fisheries Ecosystem Workgroup and he is the Chair of the Atlantic States Marine Fisheries Commission – Multispecies (Modeling) Technical Committee.
---
4. Featured Model: Atlantis Ecosystem Model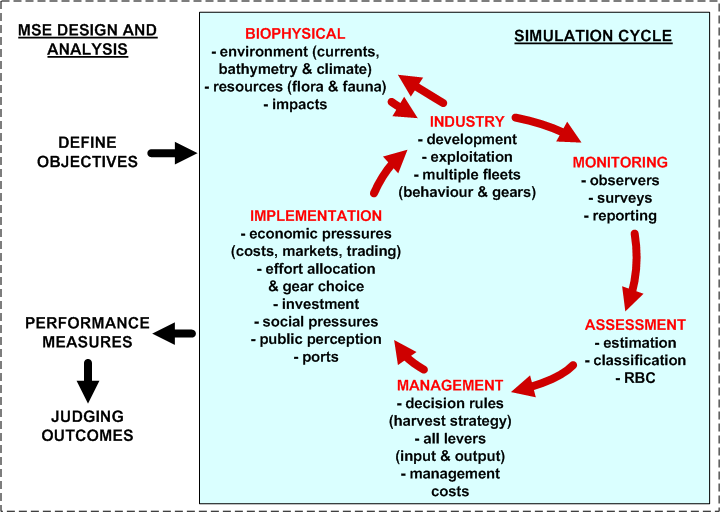 Structure of the Atlantis model
The Atlantis model was developed by Dr. Beth Fulton at the Commonwealth Scientific and Industrial Research Organization (CSIRO) in Australia. Atlantis is a strategic management tool that is capable of exploring a variety of scenarios of interest to ecosystem based management including climate change, fisheries, land use, and nutrient pollution.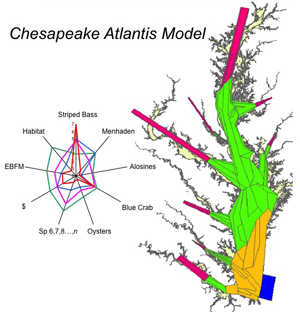 Output from the Chesapeake Atlantis model.
The structure of the Atlantis model is based on the Management Strategy Evaluation approach which is essentially adaptive management. This structure is detailed in the figure below and each step in the process is represented by a sub-model.
There are several ecosystem processes that are modeled by Atlantis including oceanography, habitat associations, movement (migrations), predation, and spawning and recruitment. Food web interactions in the model can range from basic with a just a few trophic groups to complex with many trophic groups, fishing fleets, and management actions.
Atlantis models have been developed for several regions around the globe and are being developed in several others including a version for Chesapeake Bay by Drs. Howard Townsend and Tom Ihde.
The Chesapeake Atlantis model will examine and compare different management foci in Chesapeake Bay. Some of the managment foci to be simulated include Striped Bass, Blue Crabs, Oysters, and Ecosystem Based Fisheries Managment to name a few.
---
5. Upcoming Meetings

Maryland Water Monitoring Council Annual Conference
December 6, 2012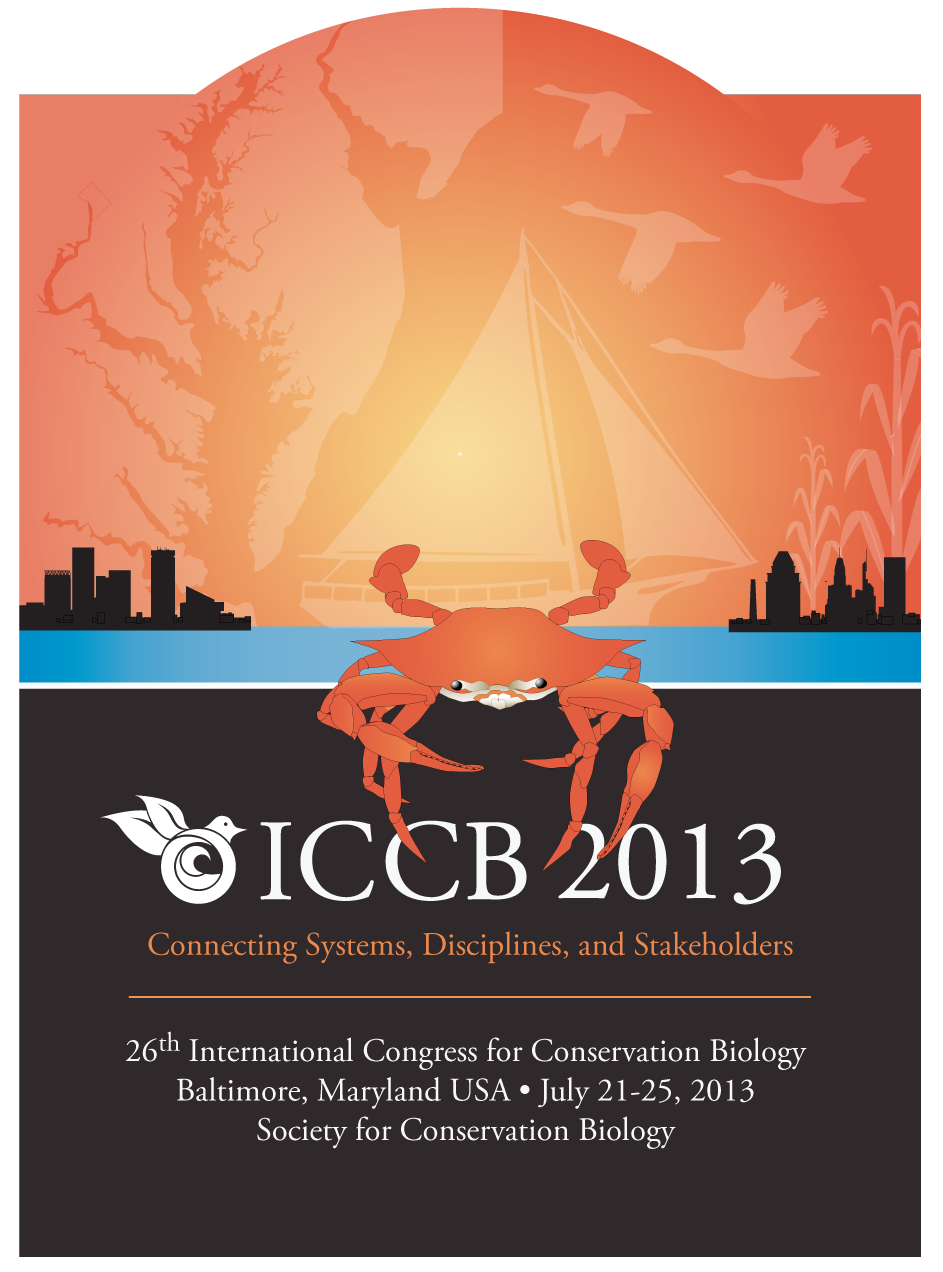 International Congress for Conservation Biology
July 21-25, 2013