CCMP Proposals & Funding

Welcome to the CCMP Proposals & Funding page. Here, you can find out what's being funded, what's in the works, and where future opportunities can be found. As always, we at CCMP would love to receive input from our audience. If you are aware of any RFPs or other funding opportunities, please contact CCMP and let us know.
CCMP Proposals
Chesapeake Bay Environmental Observatory (CBEO)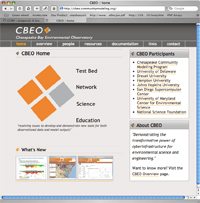 A new webpage has been launched for the Chesapeake Bay Environmental Observatory (CBEO), a CCMP project recently funded by the National Science Foundation. CBEO's primary aim is to "demonstrate the transformative power of cyberinfrastructure." More details about CBEO, including information on those working on the project, can be found on the new CBEO page. This page will be a growing resource for all things CBEO-related, so be sure to check back frequently.

CLEANER for Chesapeake Basin
The NSF national program "Collaborative Large-Scale Engineering Analysis Network for Environmental Research", CLEANER, seeks to build a national infrastructure of environmental field facilities to aid engineering activites supporting decision making for large-scale environmental systems. An emphasis is being placed on anthropogenic influences on coastal margins and river and estuary systems. Certainly the Chesapeake Basin is one of the nations largest such systems.
The CCMP and researchers from John Hopkins University, University of Maryland Center for Environmental Sciences and the University of Delaware submitted a proposal to help CLEANER design the concept of the national observatory based on the needs and experiences in the Chesapeake watershed and bay.

Basin-Wide Modeling and Chesapeake Bay Hypoxia
Following the Sept 2004 Watershed workshop several CCMP members came together with a similar idea, a framework which joins disparate models into a single whole. Alexey Voinov gave compelling arguments at the workshop for the usefulness, need and practicality of building a software framework which acts as "middleware" between existing watershed, hydrodynamic, sediment transport, ecosystem and biogeochemical models. Since the CCMP membership has at its fingertips working models of all of these processes, all that is necessary is the will, time and money to build the framework.
Visit the Basin-Wide Modeling and Chesapeake Bay Hypoxia to read more about this project.

Other Proposal Links
NSF Opportunities